Your message has been successfully sent.
Get notified when is back in stock
Linen Reed Diffuser
Imagine the aroma of freshly laundered linens billowing in a summer breeze against a backdrop of delicate blooms.
Get notified when Linen Reed Diffuser is back in stock
Get notified when Linen Reed Diffuser arrives
BlueRewards Exclusive
Linen Reed Diffuser is only available to BlueRewards members
Shipping & Returns
Free Returns
Returns & Exchanges are free and accepted in store and by mail within 60 days of purchase.
Shipping
| | BlueRewards Members | Non-Member |
| --- | --- | --- |
| Ground Shipping | Free for all BlueRewards Members | Free over $100 spend, $7 for orders less than $100 |
| Two-Day Shipping | Free over $150 spend, $10 for orders less than $150 | $10 |
Orders placed by 12 p.m. Eastern time will be processed the same business day. Orders placed on weekends and holidays will be processed the next business day.
For curbside pickup, call your local store. You can find your closest store here.
View our full policy here.
Notes of apple blossom and white orchid enhance the fragrance with a hint of floralcy. It is an experience that can only be described as refreshingly crisp.
Key Benefits
Our elegant Reed Diffusers are carefully crafted with the highest quality fragrance oils and are designed to continuously fill any space with a lush, memorable fragrance.
The alcohol-free formula releases fragrance slowly and evenly into the air for approximately 90 days.
Top:
A Crisp
,
Clean Linen Accord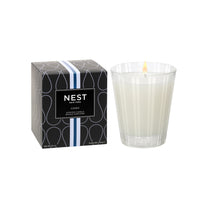 Nest
Linen Classic Candle
From our NEST to your NEST. Welcome to NEST New York. Where mood is elevated & scent is celebrated. Transform the everyday through scents that transport, inspire, and captivate the senses. Let NEST New York scent your world.
Learn more about NEST founder Laura Slatkin in this exclusive Q+A.
Shop nest