Your message has been successfully sent.
Get notified when is back in stock
Debloat +
Debloat+ is a blend of seventeen digestive enzymes, clinically proven to reduce symptoms of bloating, nausea, heartburn and gas by 51% in 30 days.
Get notified when Debloat + is back in stock
Get notified when Debloat + arrives
BlueRewards Exclusive
Debloat + is only available to BlueRewards members
Shipping & Returns
Free Returns
Returns & Exchanges are free and accepted in store and by mail within 60 days of purchase.
Shipping
| | BlueRewards Members | Non-Member |
| --- | --- | --- |
| Ground Shipping | Free for all BlueRewards Members | Free over $100 spend, $7 for orders less than $100 |
| Two-Day Shipping | Free over $150 spend, $10 for orders less than $150 | $10 |
Orders placed by 12 p.m. Eastern time will be processed the same business day. Orders placed on weekends and holidays will be processed the next business day.
For curbside pickup, call your local store. You can find your closest store here.
View our full policy here.
Using the best in nature and in science. Debloat+ takes learnings from Ayurvedic medicine, focusing on natural extracts which are easily recognized by the body, fusing it with scientific innovation
Seventeen digestive enzymes
Organic Cinnamon
Ginger and Turmeric
Licorice Root
Full Ingredients List
Gutgard Licorice Root Extract, Organic Turmeric Powder, Organic Ginger Root Powder, Organic Cinnamon Root Powder, Proprietary Enzyme Blend (Amylase, Protease, Acid Protease, Neutral Protease, Bromelain, Lipase, Cellulase, Invertase, Lactase, Maltase, Glucoamylase, Alpha Galactosidase, Pectinase, Xylanase, Beta Glucanase, Phytase)
1 Capsule, twice daily with food.
1 Capsule, twice daily with food.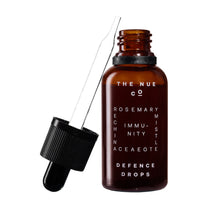 At The Nue Co., we believe that the path to health is personal. Everybody, gut, and sleep pattern is different, so we take an individualized approach to health focused on personalized and adaptable routines to deliver results you can actually feel. Our products are developed putting nature first and science second—but never one without the other–– and are made with materials and ingredients that do not harm people or the planet. The result? Category-defining products that transcend age, culture, and gender.
Shop the-nue-co